Recipe: the French baguette
Hi there! This year I finally decided to try my hand at bread making. I don't know what I was waiting for, after years living in the USA and missing it, I can now make it all easily from home.
So don't be scared with the process. Once you've made it 3 or 4 times, it will start making a lot of sense and you'll be amazed at the transformation of the dough's texture.
Ingredients:
500 g bread flour

340 g warm water

3.5 g active yeast (or 100 g of sourdough starter if you prefer)

9 g fine salt
Let's do it!
Start by mixing your flour with the water. We call this part the autolyse. Whether you knead with your hands or with a machine is fine. Work at it for 3-4 minutes, then let it rest for 30 minutes to an hour.

Activate your yeast with a bit of warm water (2Tbs or so). Careful: warm but not hot water! If you are using your sourdough starter, skip this step.

Once your yeast is activated, you will see a tiny little layer of bubbles on the surface. Add the yeast and salt to your dough and knead it for a minute. The dough will be very sticky, that's fine, the texture will tighten later.

Let your dough rest for 30 minutes at room temperature (at least 70F), then with your hands, stretch the dough and fold it unto itself 2 to 3 times.

Let the dough rest another 30 minutes, then stretch and fold it again. Repeat the wait, stretch and fold another 2 times. So overall, 4 times over 2 hours. The dough will still be sticky but by the end, you'll notice it's starting to gain consistency.

Let it rest under a wet towel for 10 to 12 hours (overnight) at room temperature still.

Your dough should now have doubled in size! With the measures I gave you, you should have enough dough for 2 big baguettes, so cut your dough in half and shape the two halves in tight balls.

Let them rest on a floured surface for an hour

Now let's shape the baguettes. Stretch the ball a bit into a rectangle, then fold it in two, pressing the top edge on the bottom edge. Then gently roll the dough into a long baguette. You'll then need to place your baguette on a floured towel that hugs it on the side to help it keep its shape.

With a good knife, you will then need to make cuts along the bread, parallel to its shape. Note that your knife should cut the dough at a slight angle, not perpendicular to the surface.

Let the baguettes rest for another hour and turn on your oven to 480F.

Place a small cake mold at the bottom of the oven on a low rack. You'll use it to create some steam later.

When the time comes, transfer gently your baguettes to a non stick baking sheet, put it in the oven and quickly add water to the cake mold. Watch out for the steam, be careful to not burn yourself!

Bake the baguette about 15-20 minutes, or until it's a nice golden shade.

Enjoy after it's cooled off a bit!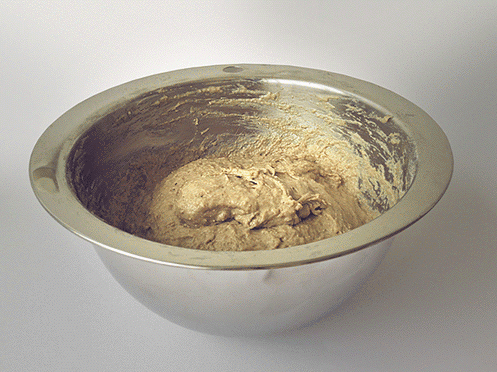 Are you interested in learning a bit of French vocabulary and culture? Check out our article around bread and butter!